Hunan Chinese from the Xiang River region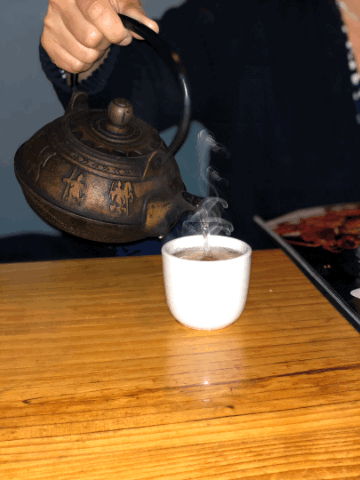 Lil's steaming tea as soon as we arrived.
Chef Tan, 441 Raritan Ave, Highland Park, NJ – Last visit Friday, 11/22/2019
Hunan Style is the style of food served at Chef Tan. Imagine the menu being written primarily in Chinese with English subtitles, that's my personal indication that the food is prepared in the authentic Chinese manner. Hunan, known for cured ingredients, is also known for heavy use of peppers. Spicy cuisine is also a great way to describe food, traditionally from the Xiang River region of Hunan province in China. When they explain that much of the food is made with peppers, they are not kidding. This is the fourth time we visited Chef Tan. We are somewhat adventurous when it comes to Chinese cuisine because one of the We Eat A Lot editors is from China. She is our primary guide when we venture away from American style Chinese food. First, let's talk about the environment. The restaurant has high backed booths with big brass drum chandeliers, giving the space a touch of elegance and overall hipness. We were quite undecided about what to order so we asked one of the waiters for a recommendation. He said he could only talk about the top 10 because there were so many good choices. He made his recommendations and after about three seconds of consultation, we decided with three dishes he recommended in addition to Chef Tan fried rice and stuffed dumplings.
We Eat A Lot Editor "Lil"
My two dining companions, Agent 1107 and Lil both enjoy spicy food. I, on the other hand can handle black pepper, but anything more and I am sniffling. We were so wrapped up in conversation that we never thought to ask the waiter about the spiciness of the dishes he recommended. BIG MISTAKE says me.
The dishes were brought to the table in short order, but each was served as it was prepared. The Chef Tan Fried Rice arrived first. It included some diced pork and looks very much like regular fried rice. The only difference is that the rice also has finely sliced dried Chile peppers. After eating a forkful of the fried rice, I realized that the innocent looking dish was anything but innocent. The next dish thankfully was Chongqing style Chinese fried chicken, delicately fried chicken tossed with a seasoning and Chile peppers stirred in, for what I thought was decoration. The dish smelled and looked wonderful. Well spicy is not the word I would use to describe the chicken. It was HOOOOOOOOOOTTTTTT!!!!!!! But I guess my mouth became numb and I was able to eat a fair portion. The next two dishes, pork belly in garlic sauce and steamed eggplant with minced pork were mild. The white rice thankfully also offered a reprieve from the spice attack on my taste buds.
The pork belly in garlic sauce was quite tasty. The steamed eggplant with minced pork also had crumbled duck eggs on top. It was very good. The combination of duck eggs and pork, which were over spears of eggplant provided a little saltiness, which, considering all of the other flavors on the table, was quite a contrast in flavor. It was a great experience although recommendations from the waiter will definitely be vetted in the future in order to protect spice adverse among us.
As a footnote, the restaurant is open until 10 p.m. They like to close promptly. Not during this particular visit, but previously, we were still eating when the cleaning people were washing the floors around nearby booths with floor cleaner and bleach.
Overall smiles came up with four out of five. 😊😊😊😊 adventure rating was a solid five smiles 😊😊😊😊😊, regardless of the shambles my taste buds were in afterwards.